This page will be dedicated to the ongoing and finished projects I am working on, this will be motorcycles, and will also include car/truck projects as well.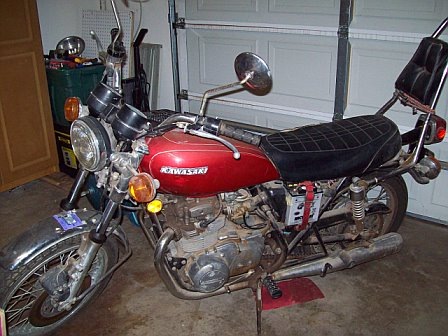 This is what I started with . 1977 KZ400 I got for $300, It ran, I actually rode it home.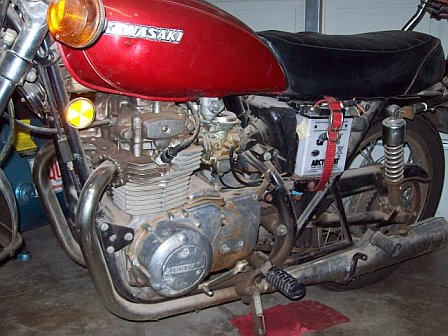 It was really nasty dirty. I love the dog collar battery strap.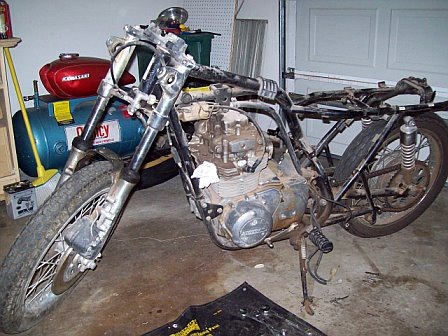 This was about an hour later...more dirt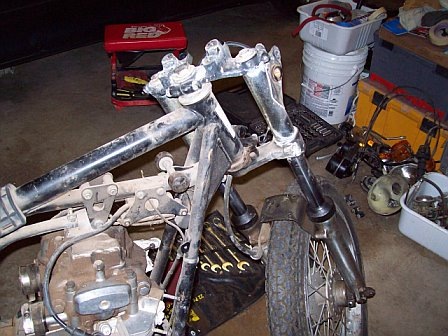 Another view of the crud...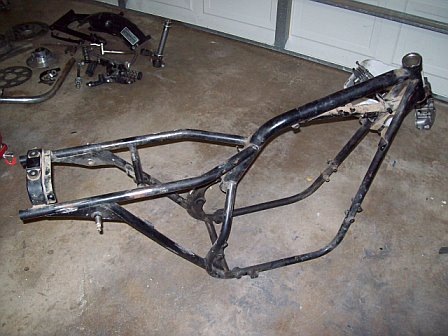 This was about three hours later, I removed about 8 pounds of un-necessary frame peices..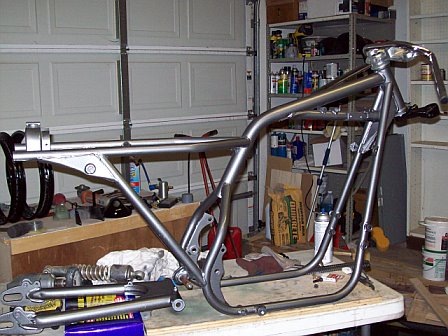 Ahhh...fresh paint and the triple trees installed.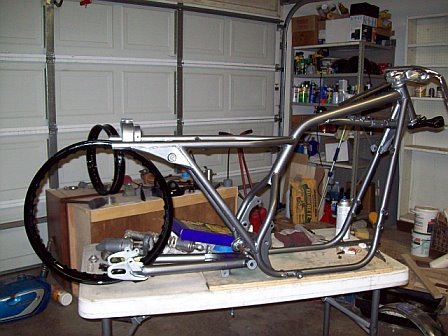 A little mock up after I finished the rims.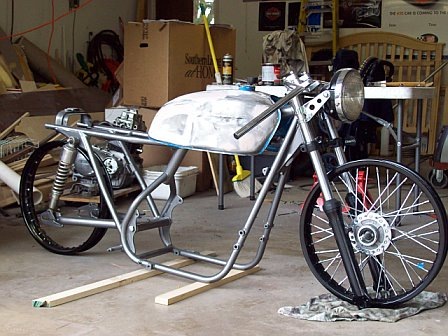 Another mock up, after some work on the tank, and after I finished lacing the front wheel.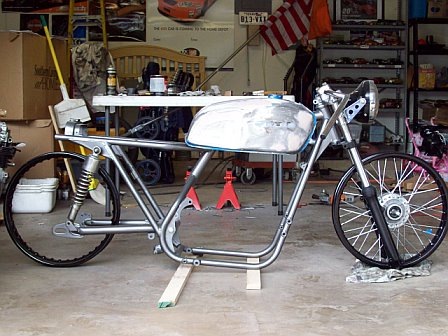 Another view.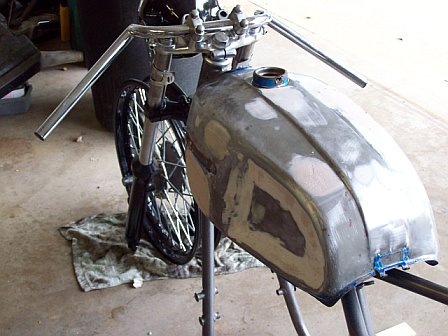 The tank.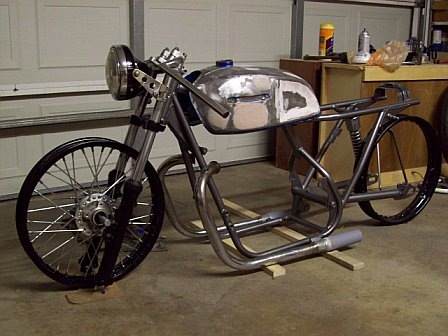 Love this mock up view, this is when I started to get excited about the overall look and I got a good feel for the flavor of this project.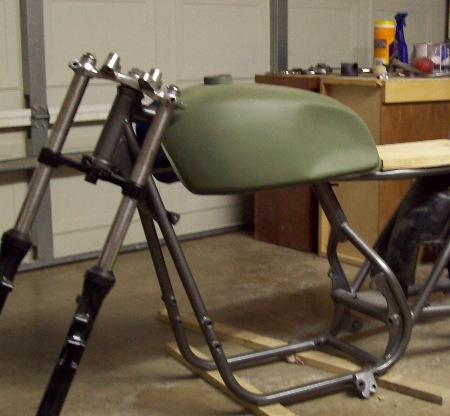 Primered tank.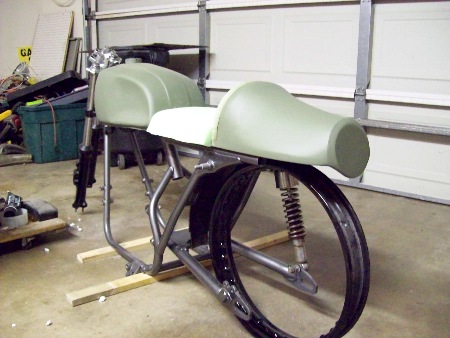 The rear tail piece after I fabbed it up (fiberglass).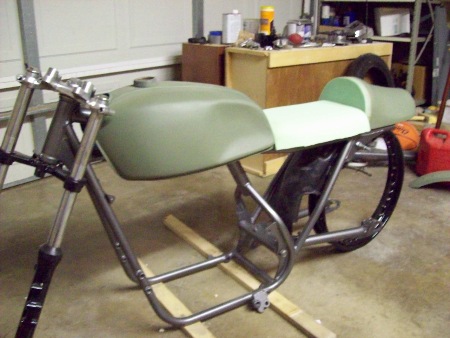 Seat foam is on.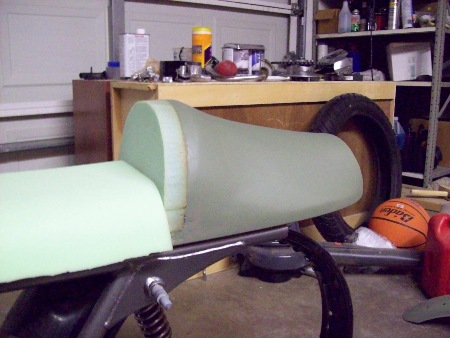 Another view.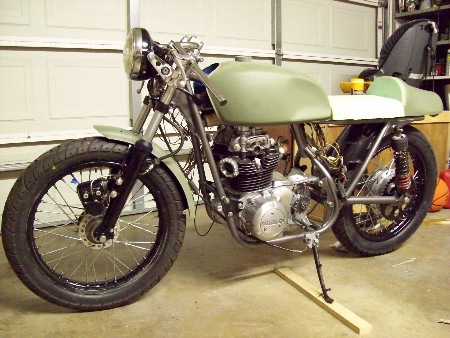 Finally a rolling chassis with the motor back in, lots of detailing still to be done.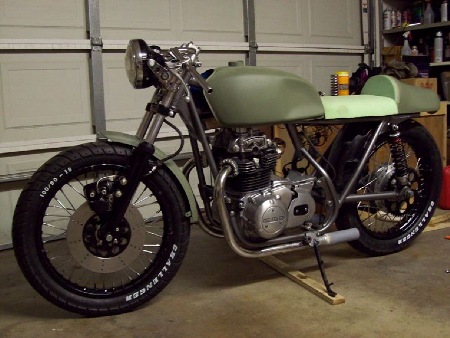 Getting closer...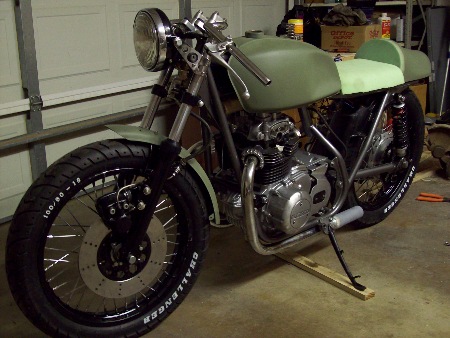 Another shot.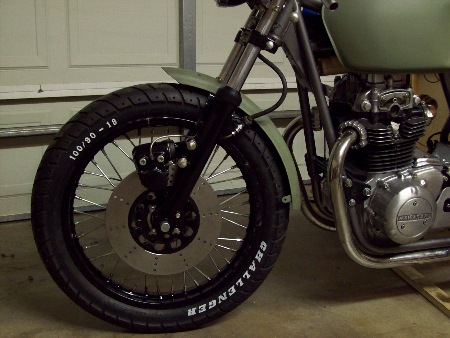 Wheelset with the rotor I drilled.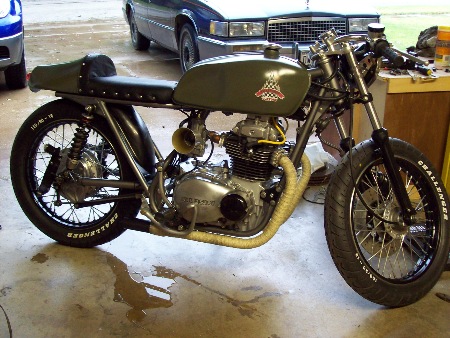 Well, here it is pretty much finished!!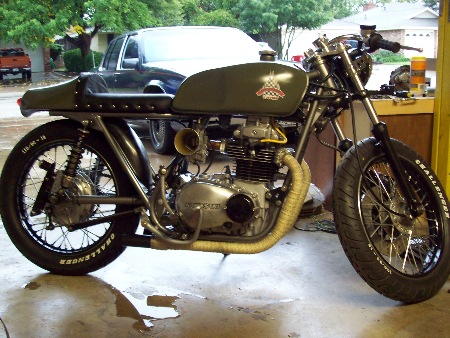 Another shot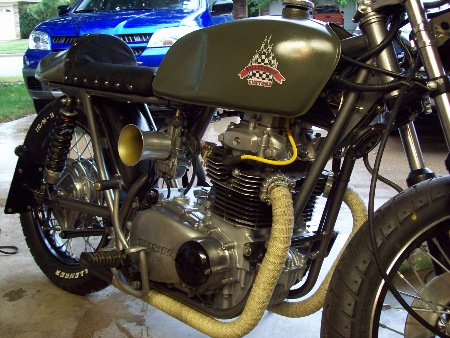 Another view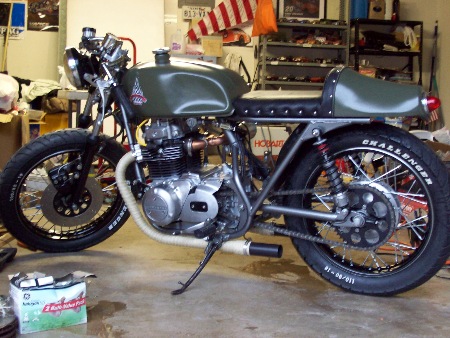 Left side view

Better Pics coming very soon....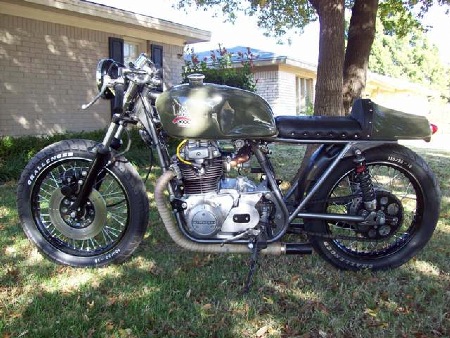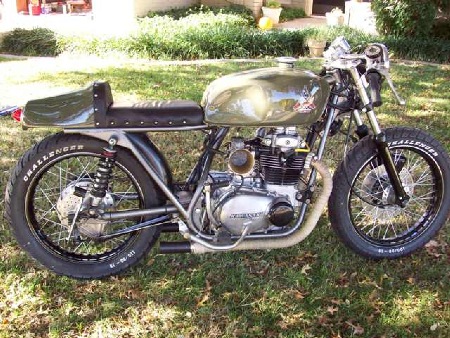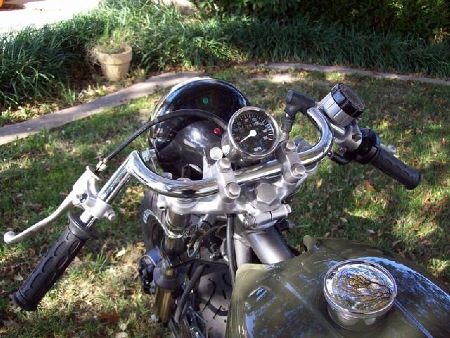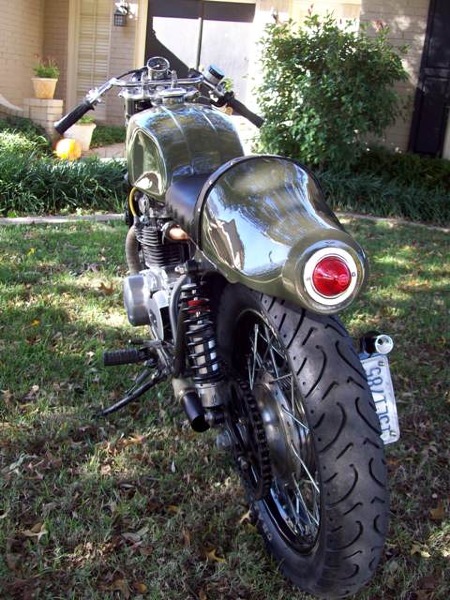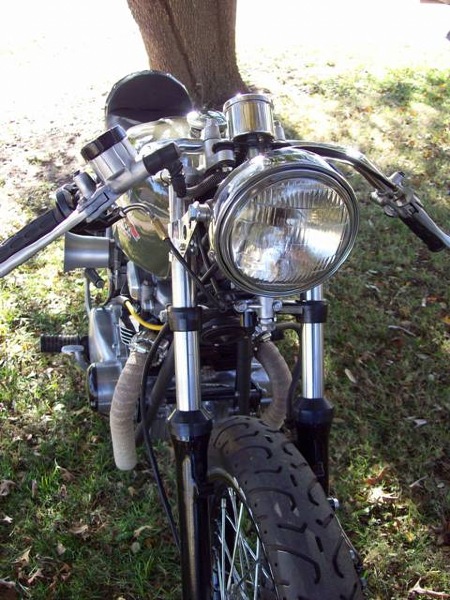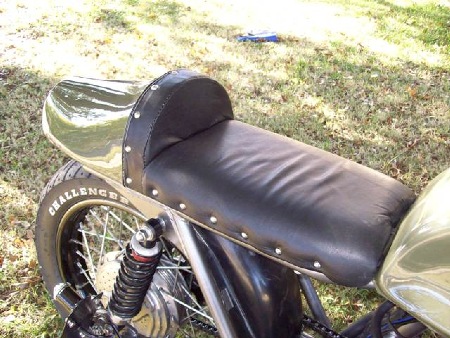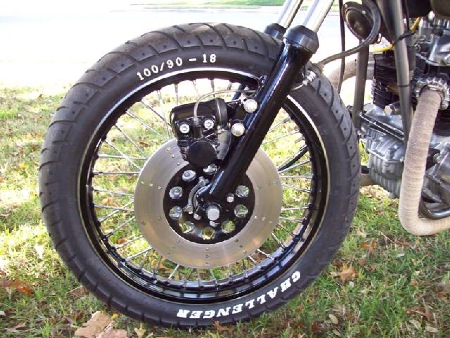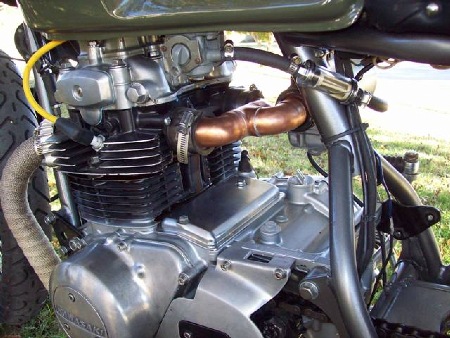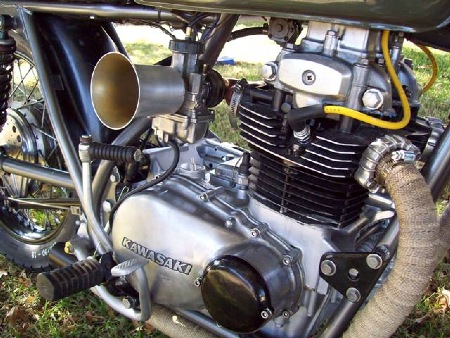 Billetproofcustoms.com

1977 KZ 400 Café Racer

Build Sheet



· All work done to the bike was done by the builder; no outside sources were used in any stage of the build.

· The bike is registered as a 1977 Kawasaki KZ 400

· Custom modified frame; stock frame was heavily modified to suit the build. All metal fabrication and welding done by the builder.

· Fuel tank is from a 1979 Suzuki GT 500; all the metalwork on the tank including the custom filler neck and knee inserts was done by the builder.

· Bike was lowered approximately 2 inches using lowered front shocks and custom shortened rear shocks.

· Both front and rear wheels were built (laced and trued) by the builder. The spokes are all custom made for the wheels.

· Drilled front brake rotor.

· Custom front light brackets conceal the ignition; custom headlight bucket houses the light switch and warning lights.

· Custom "clubman" type handlebars (shortened), ignition switch and horn are located in the lever mounts for a very clean look. All wiring is located in the bars.

· Bar end mirrors

· 2.5 inch speedo on a custom bracket.

· One piece seat and rear tail section are custom made fiberglass, and the seat foam and leather cover were all fabricated by the builder.

· Leather seat cover is custom stitched by hand, no machine was used.

· Rear taillight is custom made from several different light parts.

· Battery is hidden under the tail section.

· Rear brake drum is custom drilled.

· Sprocket cover is custom made from original.

· Side mount license bracket and light holder is completely custom fabricated.

· Exhaust pipes are custom made and wrapped.

· Converted from dual carbs to single carb, custom intake manufactured by Billetproofcustoms.com is made from thick wall copper pipe.

· All body work and painting done by builder.